Meeting high-level and global needs with advanced press technology and mass production systems focused on drawing processing.
We respond to the need for metal pressing products such as small battery parts, electronic parts, automotive and other parts as they evolve globally, using high precision metal pressing technology and high-quality mass production systems focused on the high-precision drawing of thin plates.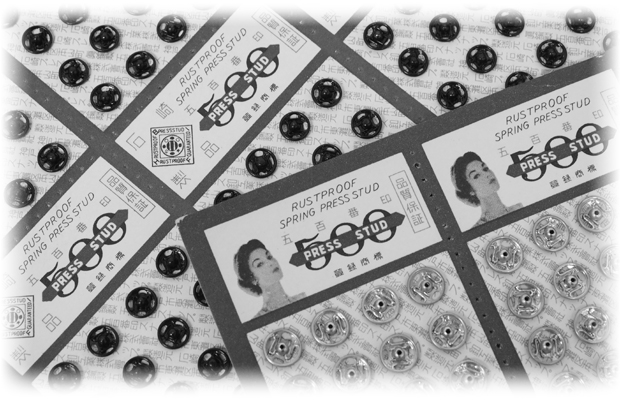 Japan's First Manufacturer
of Snap Buttons
Founded in 1931 as the first domestic snap button manufacturer
We continue to manufacture our "500" brand snap buttons using the facilities the ones that have been used since we started doing business, so many years ago.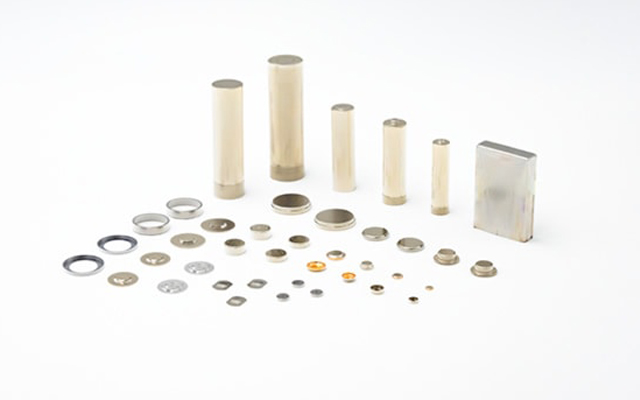 Leading Company in the Field of Pressed Parts for Small Batteries
Meeting the latest needs with know-how accumulated over 40 years and our advanced technology
Our production of pressed parts for small batteries, which began in 1973 with silver oxide battery anode containers, has now developed to make us the world's leader in terms of variety and volume. As a leading company of press processed small battery parts, we will continue to use our advanced technology to meet the latest needs.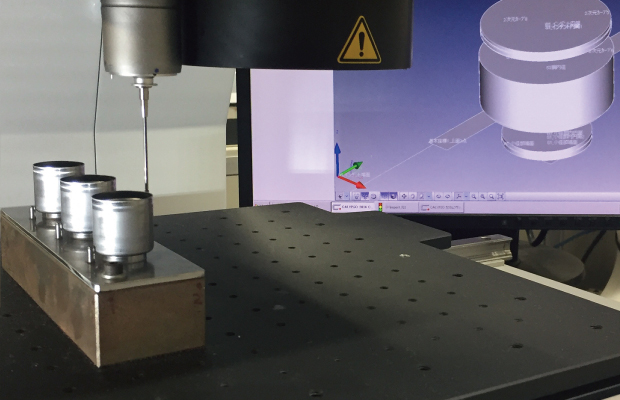 Expanding our Product Lines
through an Emphasis
on Advanced Equipment
A leading company in thin plate precision press work focused on drawing processing
Our press technologies, based on the precision drawing that was developed during our manufacture of small battery parts, is highly esteemed in other industrial sectors. Our product field is expanding, especially to electronic devices and automotive parts that require high precision.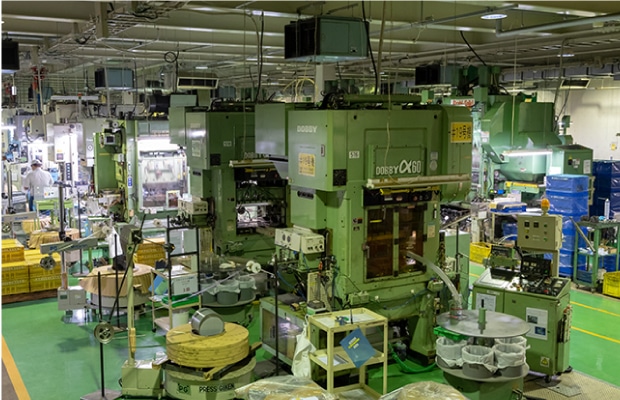 A Mass Production System to Deliver High Quality and Great Productivity
Stable mass production of numerous items in large quantities with our high-level process control
We can boast that we have the industry's leading production capacity, made up of over 100 units of progressive and transfer presses that are managed with our IATF16949-acquired quality assurance system. Through the ongoing pursuit of variation reduction and continuous improvement, we have built a high-quality and high-productivity mass production system.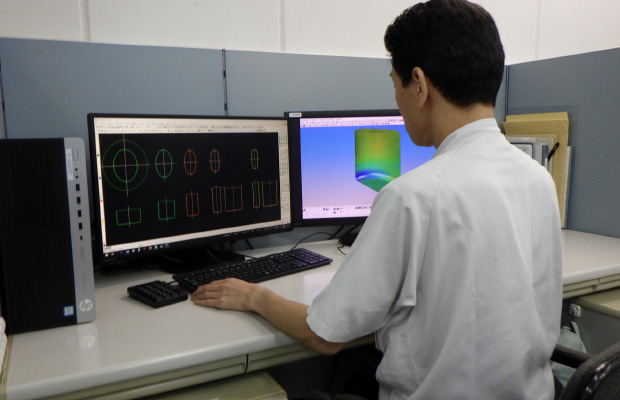 We design mold processes
utilizing our accumulated
experience and by performing preliminary simulations
Our mold process layout design skill is based on a large amount of accumulated experience with precision pressing, gathered over more than half a century, and we perform simulations to test a design
Our mold process layout is a 100% in-house operation.We extract major layout data from our accumulated experience. By adding a forming simulation step, we design mold processes with confidence that they will match our customers' needs precisely.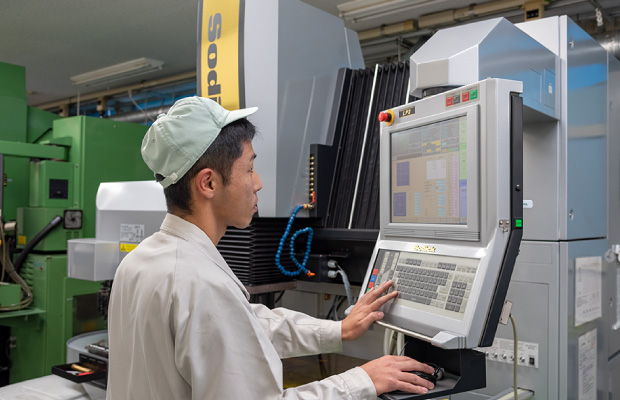 High precision mold manufacturing
Pursuit of ever-improved high precision molds, our source of high precision stamping
After using our accumulated data to select the optimum conditions, we produce molds using high-precision machine tools.Then, we finish them with our unmatchable polishing skill.By constantly pursuing improvements in mold manufacturing technology, we are able to meet the increasingly stringent demands of our customers for precision in their finished products.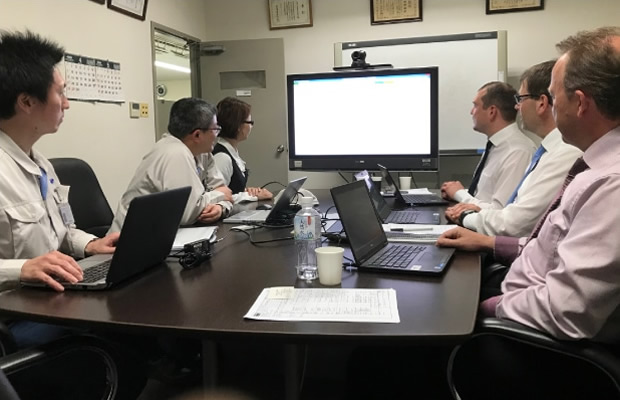 A Big Response on a Global Scale
Our overseas sales figure exceeds 40% of our total sales. Our in-company staff responds directly to overseas customers.
Our staff trades directly with most of overseas customers.
Our ability to respond quickly to communications from overseas is a strong factor in our global business expansion.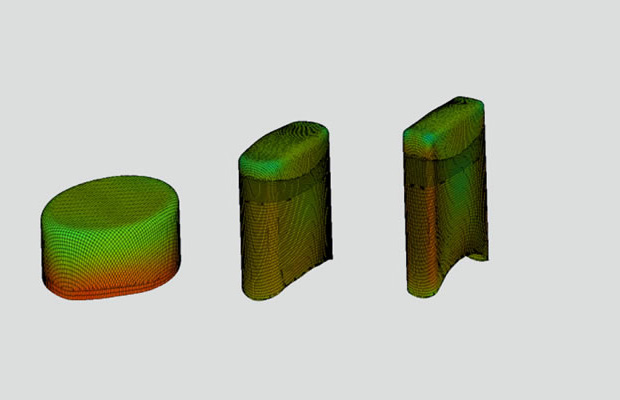 Joint Industry-Academia
Research
Advancing technology through exchanges with research institutes
Ishizaki Press Industrial Co., Ltd. actively pursues joint industry-university research. We are involved in solving high-level technical problems through exchanges with public research institutes and universities.
June 2020

Received Award of the Japan Society for Technology of Plasticity for development of highly productive warm drawing using high frequency induction heating.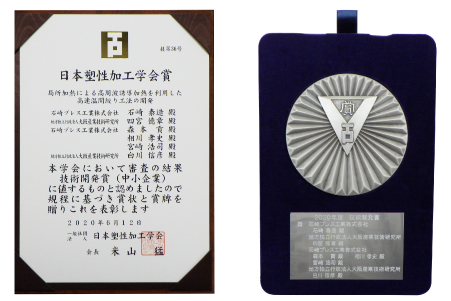 Click here to see a publication about
our award-winning technology.
Strategic Fundamental Technology Advancement Support Project
Period
September 2015 to March 2018
Project name
"Development of a highly productive and efficient warm drawing method for transfer presses, to permit the creation of high-aspect-ratio thin-walled stainless steel containers"
Joint Research Institute
Osaka Research Institute of Industrial Science and Technology
Dijet Co., Ltd.
Company using the developed product
Research
period
September 25, 2020 through March 31, 2021
Research title
Making improvements in the high-speed, hot-drawing method used for austenitic stainless steel
Joint Research Institute
Osaka Research Institute of Industrial Science and Technology
Hyogo Prefecture COE Program Promotion Project
Period
July 2015 to March 2016
Research project name
"Study of temperature dependence of material properties contributing to developing a high-speed production method for stainless steel deep drawing"
Joint Research Institute
University of Hyogo